What is infusion nursing?
UniversaCare's infusion nursing services provide one-one one medical care in the form of administering intravenous (IV) medications through a catheter directly into the bloodstream of patients in the comfort of their own homes. Our infusion nurses are skilled and specialized Registered Nurses (RNs) to assist clients with their infusion therapy needs based on a defined care plan to offer the highest quality of care to the client and their family.
What do infusion nurses do?
Deliver therapies in the form of non-oral techniques such as:
Intramuscular injections
Subcutaneous routes
Catheter administration of medication delivered by your specialty pharmacy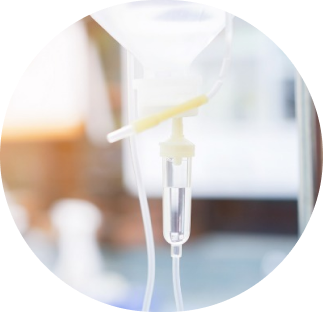 How can UniversaCare help?
Our infusion nurses are skilled RNs and are equipped with the right tools to help you and your family receive the care you deserve. Our infusion nursing services include initial and ongoing education, and the close monitoring, follow up and management of therapy schedules and infusion devices.
UniversaCare has been providing high quality premier in-home care to New Yorkers for over 13 years and our staff ensures we provide customized care that meets and exceeds the needs of you and your loved ones. We're a family-owned and operated agency that treats our clients like our own family to provide the necessary support and the proper care solutions required during this crucial time.
Is infusion nursing right for me?
Infusion duty nursing services can be for you if you or your loved one need to receive some or all their therapy at home, while reducing the harms associated with hospitalization. UniversaCare nurses provide the level of care you deserve in the comfort of your own home.
Reach out today to see if private duty nursing is right for you by calling – 718-224-3758.
Our approach to infusion nursing
UniversaCare carefully vets our database of skilled registered nurses that align with your needs, care plan and location. We aim to ensure we find a nurse that has completed certified training, is able to administer the services required and one that is culturally the right fit for you and your family.
Our infusion nursing services are designed with you and your loved ones in mind to ensure the highest quality of care. Our nurses are highly trained with specialized education, adhere to documented infusion-related competencies and are educated to answer questions and provide comfort to you during this important time.
How can I afford Infusion Nursing?
Based on your long-term care insurance, eligibility requirements to participate in various programs, UniversaCare has a variety of payment options that could allow you and your loved ones to afford the care you deserve.
UniversaCare accepts most major forms of credit cards, debit cards, check and money orders. In many cases besides private pay, payment options may require a combination of payment sources based on your unique case. The UniversaCare staff can assist you in identifying your options and provide additional information.